2023 Osoyoos Spring Festivel
________________________________________________
Seeking Volunteers!
The Osoyoos Arts Council is actively seeking volunteers for our Spring Festival May 4-13,2023. The volunteers would be asked to perform simple tasks for only a few hours. The times available to volunteer would be during the afternoon or on one of two evening events. Volunteers can choose to be involved on only one day or on several days as your time allows. Come out, contribute to the continuation of Arts in our community, have fun and get to listen to some great music! If you are interested please contact Mellhina at 250 485-7984 or stop by the Hub at 8716 Main Street and sign up.http://osoyoos-district-art-council.square.site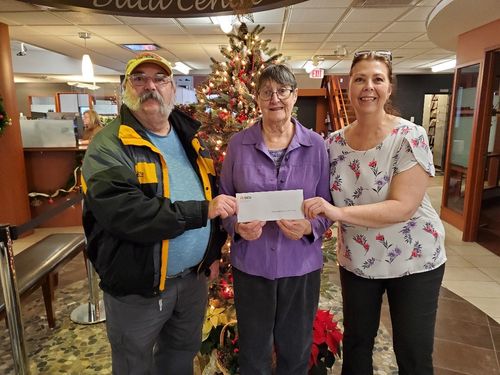 Osoyoos & District Arts Council President Nancie Krushelnicki  (center) and Director Ken Usher, receive a grant from the Osoyoos Credit Union to fund the Free shows at our 2nd Annual Osoyoos Spring Festival.  
The Free shows are scheduled to begin on Friday, May 5 on Veteran's Way.